LMPM Property Management Software
Everything you need to take bookings, efficiently manage your properties, and ensure your guests can have an amazing stay.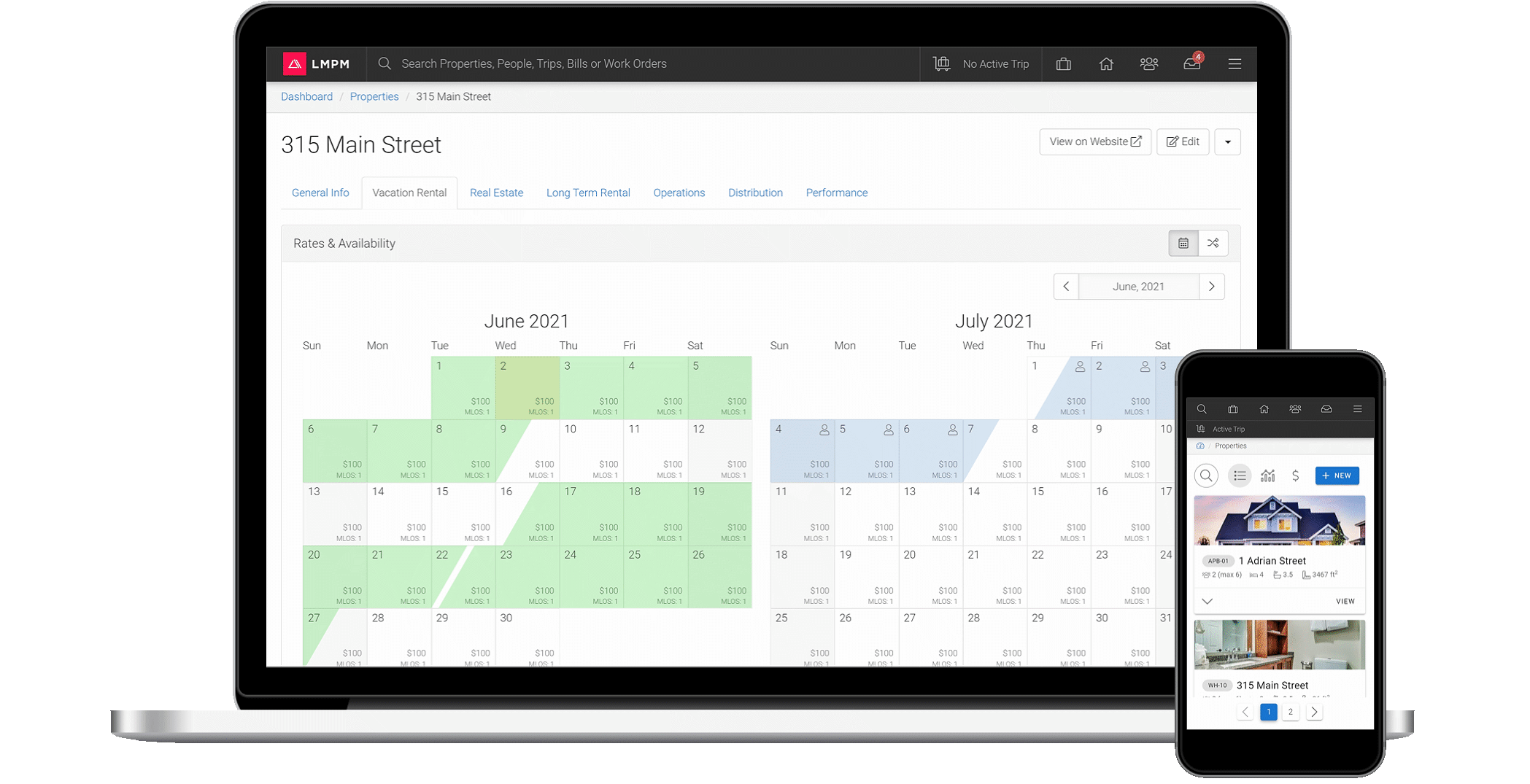 The
next generation

of property management is here.

It's not easy running a vacation rental company. There's a lot to take care of with bookings, guest management, cleaning, maintenance, distribution, and…well the list can seem endless. What you need is vacation rental software that can bring things together and make it easier to operate your business.

LMPM is fast, modern, and packed with the features modern vacation rental management companies need to automate, distribute, and manage their properties. With LMPM you can save time and 'wow' your guests – it's next generation property management software.
Take bookings.
With LMPM you can handle complex bookings, process payments, and distribute your inventory to online travel agencies like Vrbo, Airbnb, Booking.com, Marriott and more.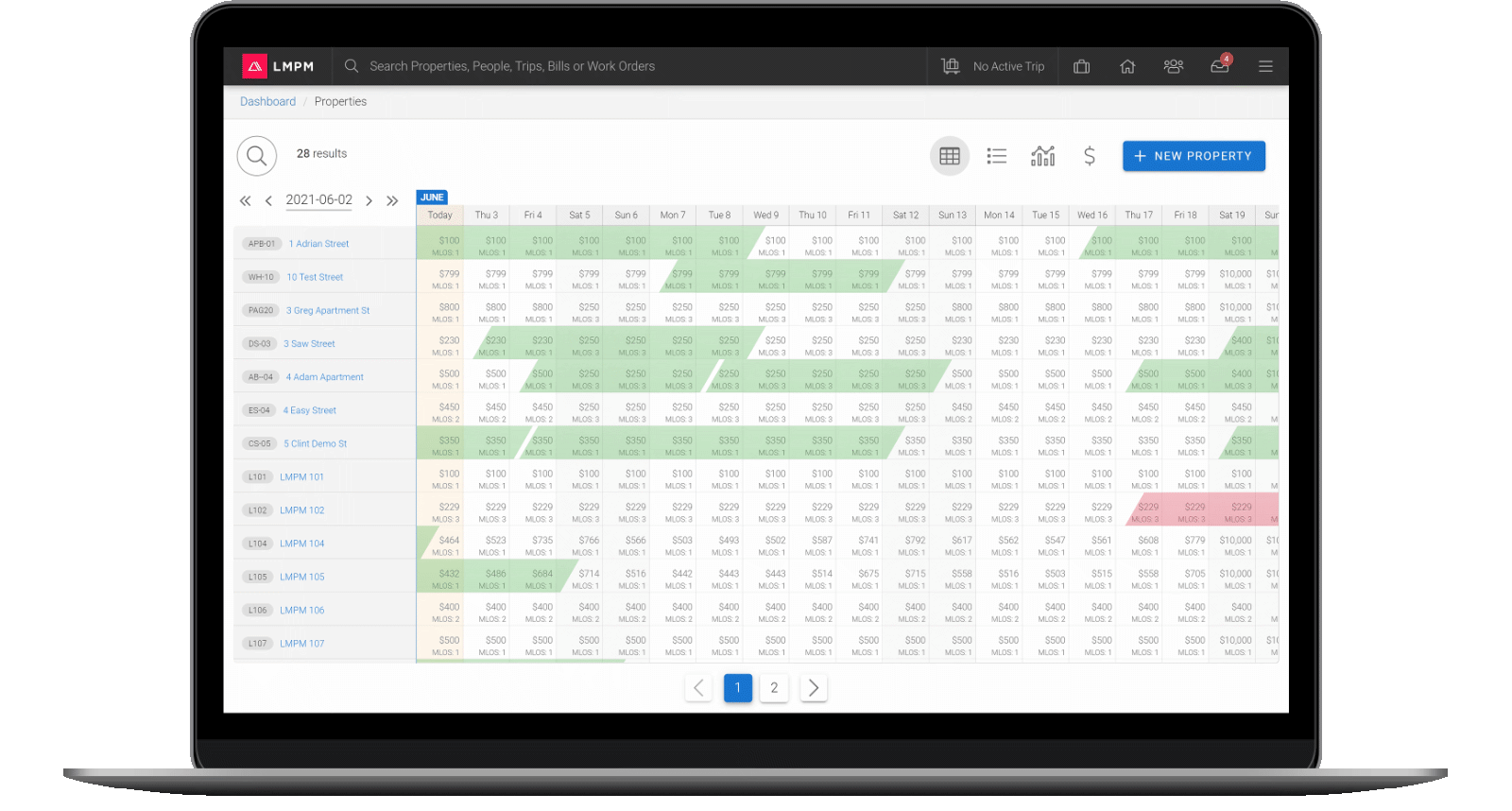 Booking Engine
Have complete control while putting together trips, including complex bookings with multiple properties, add-ons, deals, and fees. Email quotes to guests (along with with any applicable options) and have them book with an easy "one-click buy".
Channel Distribution and Management
Increase revenue by listing your properties on Vrbo, Airbnb, Booking.com, Expedia, and more. Save time by setting rates and controlling inventory on multiple channels all within the LMPM dashboard. Availability is synced between channels to minimize double bookings.
LMPM Booking Website
Take guest bookings with our included fully-featured website, powered by WordPress. Change how it looks with one of our pre-built templates or dive deeper and customize the site to your heart's content. All booking e-commerce data from your site seamlessly flows into LMPM.
Payment Processing
Process credit cards, perform pre-authorizations, and take security deposits. Set-up multiple payment accounts at the property level and any applicable trust accounting rules.
Calendar Grid
See your current and upcoming reservations in a calendar view (pictured above). Toggle between vacation rental and multi-unit properties at the click of a button. In short, LMPM can handle all vacation rental nuances as well as "hotel style" inventory out-of-the-box.
Rental agreements & eSign
LMPM comes with eSign rental agreements for you to seamlessly manage, track, and centralize your legal needs.
Manage your properties.
LMPM's powerful and easy-to-use property management software features make it more efficient to operate your company.
Automated Work Orders
Manage housekeeping, maintenance, and other tasks with LMPM's integrated work order system. Automate work orders by creating them based on booking date and guest arrival or check out date. Automatically send notifications and reminders.
Trust Accounting
Track all revenue and outgoing costs associated with all of your bookings. See overdue payments with a single click, perform month-end processing, bank reconciliation, and generate monthly statements for owners and tax purposes. Export your financial data at any time and grant accountant/bookkeeper access.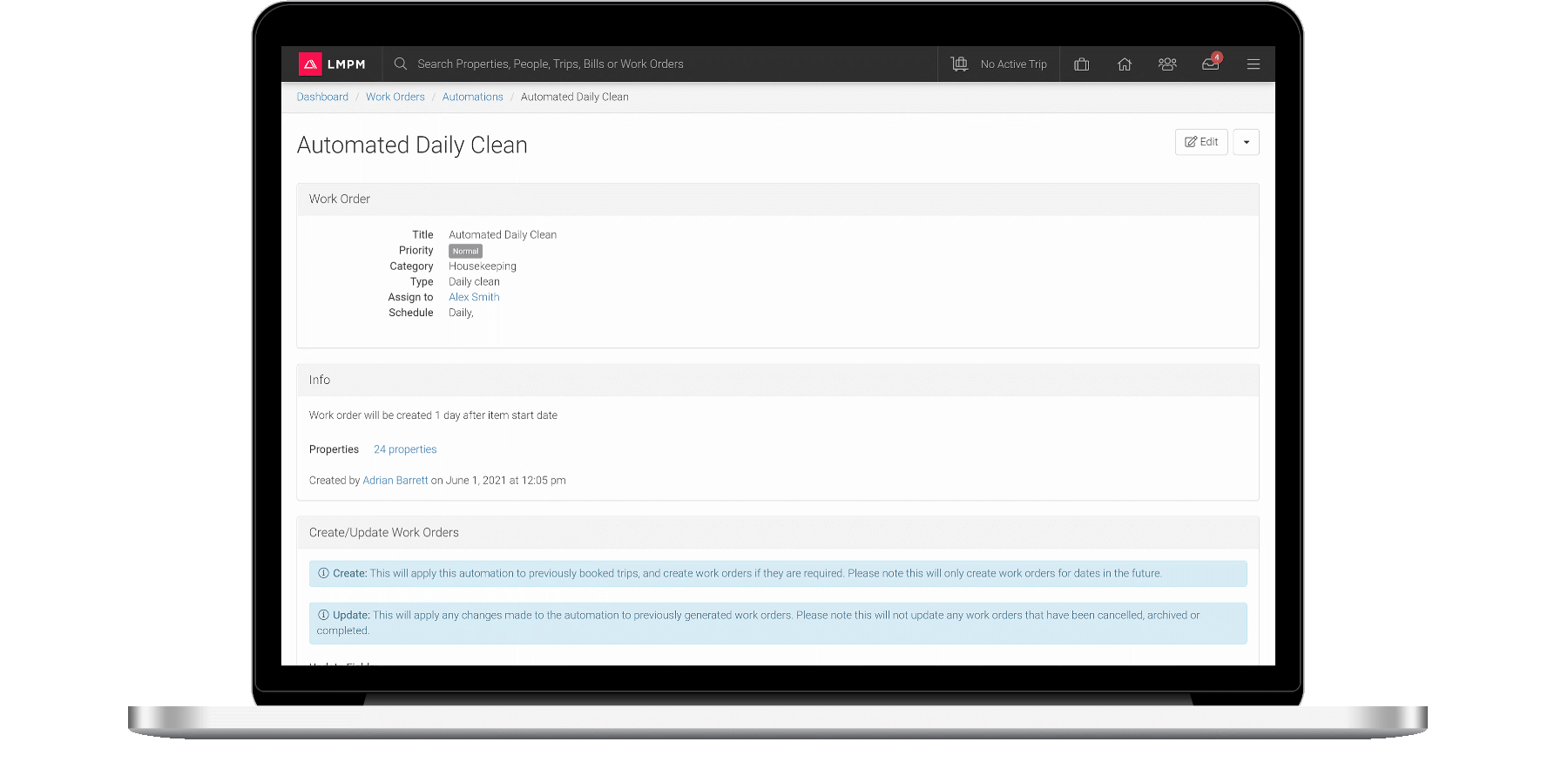 Owner Management
Split revenue between owners and your company, and store legal documents so they never get lost. LMPM is a fully paperless system. In real-time, owners can log into their Owner Portal to view property performance, make bookings, and download monthly statements.
Analytics
A built-in dashboard shows real-time occupancy and sales performance data at a glance, as well as an activity feed with arrivals and departures.
Have a question? We're here for you.
Ensure your guests can have an amazing stay.
It's the little details that count. These features ensure you can give your guests an amazing experience while they stay with you.
Customer Relationship Management (CRM)
Know your guests – keep track of their preferences and use this information to personalize their stay. LMPM's CRM is built into the "flow" of every booking – it's not a standalone system – it's part of every booking you make.
Guest Communication and Unified Inbox
Send emails to guests from inside LMPM and view their replies in a unified inbox that aggregates emails and inquiries from all channels as well as your LMPM website. Use branded email templates to quickly send guest communications – and each template can be automated using whatever trigger logic you want.
Activities and Vendors
Generate additional revenue and improve the guest experience by offering activities and add-ons from vendors as part of the booking process. Guests are also able to book add-ons directly on your LMPM website.
Email Automations
Unleash the power of automation by sending emails after a booking occurs as well as before, during, and after a guest's stay. You have complete control over what emails are sent, when they are triggered, and to whom they are sent.
Reviews
Display guest reviews on your LMPM website and approve them in the app before they're publicly visible. Reviews from Vrbo can also be automatically displayed on your LMPM website via our optional integration.
Go further with integrations
Take advantage of smart home functionality by automatically turning on air conditioning or heat before guests arrive, allowing keyless entry, and much more. This functionality is powered by our optional integrations with BeHome247 and Operto.
"We took a leap of faith with LMPM…and we're very pleased we did."
John Ryall
Exclusive Escapes
Australia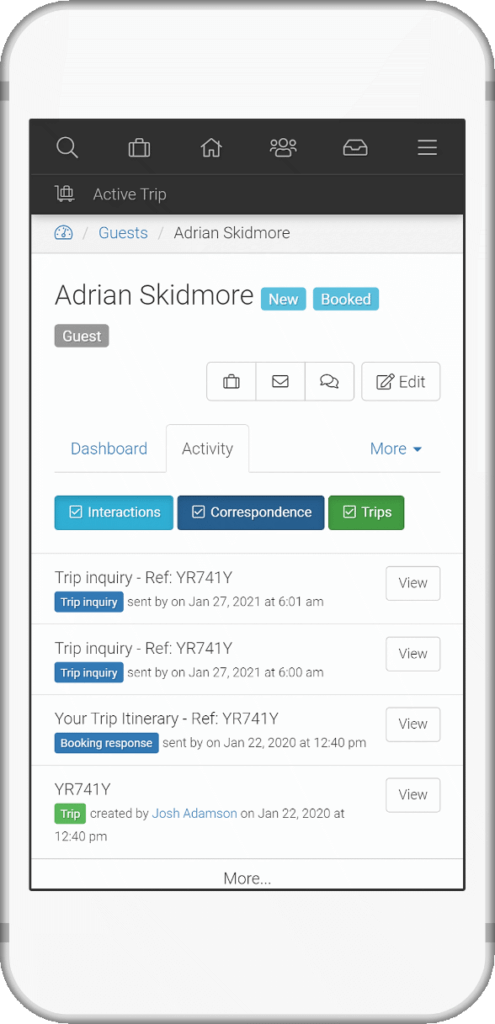 Book a demo to see the many ways LMPM can help your company take bookings, manage your properties, and 'wow' your guests.